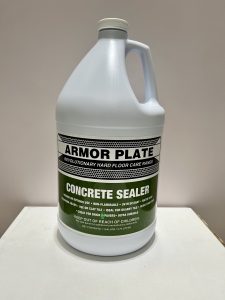 This product is a water-based indoor and outdoor hard surface concrete sealer that provides superior resistance to moisture, grease, solvents and any other foreign materials that may cause harm to your floors.
This product has outstanding durability, and the coating will not whiten or peel off any concrete surfaces.
Ideal for sealing for a variety of mediums including terra cotta, pavers, Saltillo tiles, and a wide variety of other unglazed ceramic tiles.
What are the benefits of our range?
Water Resistant formula.
UV Resistant, perfect for outdoor spaces.
Minimal Odor.
Wear resistant barrier for soiling, oil and grease stains and spills.
Easily applied and fast to dry.
Perfect for for a wide variety of hard surface materials including brick and terra cotta.
Indoor/Outdoor use.
A high gloss can be achieved simply and quickly with as few as two coats.
With the high cost that concreting can incur, it is absolutely imperative that you are able to protect, and reduce any wear and tear on your investment, and with our range of products, your investment will stand the test of time for years to come.
Floor maintenance and care is made easy with our fantastic range of highly quality Armor Plate Products.